Write My Case Study - Get Top-Quality Results with Our Expert Help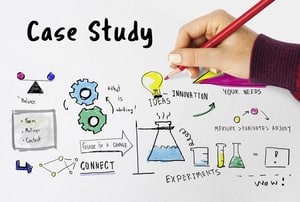 Working with case studies – both analyzing the existing ones and preparing your own – is an important part of many courses, both in high school and in college. With some disciplines (like business or management) they are more common, but it is a widespread assignment type no matter what and where you study. In other words, if you want to succeed in college, you have to learn how to deal with them early on. The thing is, a case study is a rather peculiar paper to write, quite different from most other tasks you are probably used to. Ideally, it should be based on your own personal experience or at least some factual data. You have to carry out some hands-on research before you can write one. Many students find it difficult, time-consuming, and uninspiring – and these are just some of the reasons why you may need someone to help you out with this sort of work. Fortunately, you always have the option of visiting a trustworthy writing agency like WriteMyEssays.com – here you can get all the help you may need.
Can Someone Write My Case Study for Me?
Of course, there are many services where you can get assistance with all kinds of academic assignments, including case studies. Some of them specialize in particular types of work, others are universal; whichever you look for, you are going to find dozens of them. "So why should I choose WriteMyEssays.com to help me with my project? What makes it different from all the other companies working in this industry?" It is quite a natural thing to ask, all things considered, but we still believe that our experience and highly professional approach to our work are good reasons for you to prefer our agency. In addition, when you hire us, you can expect the following:
Reasonable pricing policy. The price per page reflects the academic level and urgency of an assignment. Non-urgent high-school level assignments, for example, are pretty cheap, but the price quickly increases for the tasks that have to be done quickly. Take this into account, and you will be able to heavily influence the cost of your order;
Round-the-clock availability. WriteMyEssays service is available 24 hours a day, 7 days a week. Both our customer support team and our writers work at all times, are always online and ready to react to your requests;
Absence of plagiarism. We realize that a plagiarized case study is worse than no case study at all, and do everything in our power to ensure that what you get is written from scratch. We only deal with authors who proved themselves to be reliable time and again and check every assignment with an advanced anti-plagiarism software tool.
If you need help, all you have to do is visit our website and say, "Do my case study, please!"
Can Someone Do My Case Study and Be Quick About It?
It is one thing to write a case study, and another thing entirely to do it on time. In a high school or college environment, one cannot afford to be late with his/her assignments. This is why we at WriteMyEssays.com pay special attention to the speed of our writers and their ability to deliver high quality consistently, even when they have to work in a hurry. According to our statistics, more than 95 percent of all our assignments are delivered on time. When it is possible, we try to finish our work a few days ahead of schedule – this way the client can read the text at his/her leisure.
What Guarantees Do I Have if I Hire You to Write My Case Study for Me Online?
Many students are wary of dealing with online writing services, especially when considering this possibility for the first time. It is only natural – after all, they entrust an important piece of work to complete strangers. For you to feel safer in this situation, we at WriteMyEssays.com established a few policies to guarantee your safety:
You are entitled to free revisions. If you find a mistake or a flaw in your case study within seven days of receiving it, we will make the necessary revisions free of charge. Just make sure you do not invent new requirements that were not present in your original instructions or contradict them;
You can get a refund. Our money-back policy included a number of situations in which clients can get up to 100 percent of their payment, depending on the contingency. You can read more about it on our "Money Back Guarantee" page;
We protect your privacy. Our website uses an encrypted connection for all transactions and interactions with clients, and we never divulge the information entrusted to us to any third parties.
How Can I Get WriteMyEssays.com to Help Me Write My Case Study
Placing an order with WriteMyEssays service is extremely easy. You can either fill in the order form (pay attention to various customization features like hiring a native speaker or asking for copies of all sources used by the author. They give you a great deal of control over the process of writing and can significantly influence the price of the text) or contact our customer support team directly and place an order with their help. We suggest that you provide as much and as detailed information as possible when placing an order so that our writers can write the paper you will like at the first attempt. If your order is large enough, you can even arrange for progressive delivery. It means that we will divide your paper into several parts and deliver them separately, as soon as they are completed. This way, you can see if the writer proceeds in the right direction without having to wait for the entire paper. As you can see, we do everything to ensure maximum convenience and peace of mind for our clients. Do not wait any longer – place an order right now and let us help you!
Calculate the price of your order