Write My Coursework - Expert Help for a Flawless Paper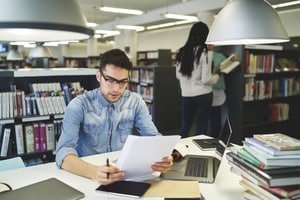 If you study in college, sooner or later your professor will assign coursework to write. There is no getting out of it – it is an integral part of college education, aimed at evaluating your ability to complete independent projects over time, gathering your own information while without constant supervision. Usually one gets a fair amount of time to complete coursework – sometimes as much as a few months. Many students perceive it as leniency and an invitation to slacking off. "I have plenty of time to complete my project, there is no reason for me to worry. Even if I put it off a little bit, I will have an opportunity to catch up later on", – this is their usual line of reasoning. Unfortunately, time has an unpleasant habit of running out suddenly. This is why it is so common for students to realize that the deadline is already at hand, and they still have to do the entire paper. This is where WriteMyEssays.com comes into play. If your writing work is giving you trouble if you are not sure you will be able to complete the job on time if you have difficulty understanding what is expected of you, feel free to ask us for help. We are sure to find someone who will be able to assist you with your predicament.
How Can You Help Me Do My Coursework Online?
Of course, students looking for writing assistance do not suffer from the lack of options. "Even if I cannot do my coursework without some additional help, why should I choose your service to assist me? There are so many other companies offering the same kind of help" – most students who are yet to deal with WriteMyEssays.com say something like this the first time they visit our website. However, we can point out a few good reasons to pick our agency:
We are always online. Nobody can be sure when he or she is going to need some help with, particularly obnoxious, coursework. It may be in the middle of the night or on the weekend. However, do not worry – we are ready to help you even at the most inopportune moments. Simply visit our website and fill in the order form, and we will get back to you in a matter of minutes;
We have experienced writers and customer support team. Our company has been helping students with their essays and coursework assignments for over a decade, with many employees staying with us for the best part of this period. As for the new writers, we carefully test them before hiring – in other words, people working on your assignments know their business;
We do not overcharge our clients. What you pay for our services is a fair fee for fair work, well within the industry's average.
I Want Someone to Write My Coursework for Me Online
Many students who need help with their writing are too afraid to ask for it because they worry about plagiarism, late delivery, and scammers. Their apprehension is understandable, but you have no reason for such sentiments when dealing with an established and well-reputed service like WriteMyEssays.com. We have been operating in this industry under this name for more than a decade and have an average rating of 8.7 out of 10. We deliver more than 95 percent of our works on time. And we do not resort to plagiarism or copy/paste under any circumstances. Before we send one of our papers to a client, we check it with our own software and make sure it does not contain parts that resemble fragments of other works even accidentally. You are free to check your paper using any software of your choice, but really, there is no need for it.
What Guarantees Do I Have That You Will Do My Coursework for Me Online?
We understand that mere words are not enough to persuade many people, which is why we take full responsibility for delivering high-quality writing before an established deadline:
Our clients get a free revision guarantee. This means that if you want us to correct mistakes and ask for it within 7 days of receiving your paper, we will do it free of charge. However, remember that you can only ask for revisions if you do not add any new instructions to the ones present in the original order. We promise to bring your paper to the required standard, not to write a new one;
We provide a money-back guarantee. Our refund policy lists a number of situations in which you can ask for up to 100 percent of your initial payment back. Read more about it on the "Money Back Guarantee" page;
We guarantee the security of your personal and financial data. Our website uses an encrypted connection and a secure payment gateway to make sure nobody can snoop on your transactions. Throughout the existence of our service, we never had a data leak or a successful hacking attempt carried out against us.
If You Want to Pay Someone to Do Your Coursework, Let It Be WriteMyEssays.com
With a work of such importance, you have to be careful whom to entrust it to. Our writing service has been around for well over a decade, and we know all ins and outs of this industry. After you place an order for coursework, you can safely forget about it until the very deadline – we will certainly deliver it to you before the agreed-upon time. If possible, we tend to do it a few days ahead of schedule – this way our clients have an opportunity to read and study the text at their leisure. So do not worry – fill in the order form, place an order, and give us an opportunity to help you out. We have already helped hundreds of students – you can become yet another person to benefit from our expertise. The solution to your writing difficulties is just a click away!
Calculate the price of your order