Write My Speech - Get Your Perfect Speech Crafted by Professionals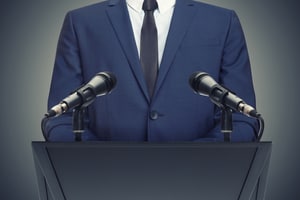 Speech writing is probably the most obnoxious and unpleasant things one has to do in college. You do not have to deal with this sort of academic work in many disciplines, but when you do have to write a speech, it can turn into a serious problem very quickly. It does not follow the same rules and principles as other kinds of academic writing – it is a mix of written and spoken speech. It borrows from the conventions of both while fully resembling neither. Most professors tend to overlook the stage at which they are supposed to teach you how to write speeches, expecting that you somehow already have this ability and knowledge. Needless to say, acquiring the relevant skills is much more complicated than is the case with essays and other, more traditional types of academic assignments. You do not have as much practice writing speeches, and when you are asked to write one, it is usually too late for practice anyway. It is no wonder, then, that so many students need someone who can help them when they receive a difficult speech to write. If you are one of them, WriteMyEssays.com can be the right answer to your problems.
I Need Someone to Do My Speech for Me Online
If you experience any sort of trouble with speech writing, you can always find all the help you need on our website. Simply fill in the order form, specify what exactly you want us to do, say, "Help me do my speech", and we will jump into action right away. Of course, we are not the only service that provides this kind of help, but consider the following advantages:
Reasonable prices. Speech writing is never cheap, and many services charge exorbitant fees for it. WriteMyEssays.com is different – we know that students have little extra money to spend on academic assistance, and strive to keep our help affordable;
Constant availability. We are online whenever you contact us. Our customer support team is ready to answer your questions 24/7. Our writers are always on standby to be able to start working on a new assignment the moment it arrives. With us, you place an order when it is convenient for you;
Strict no-plagiarism policy. We do not condone plagiarism or copy/paste in any form. If we ever notice a writer using it in his/her work, we immediately dismiss him/her. Before sending a speech to you, we carefully analyze it using sophisticated software tools to make sure it does not contain non-original fragments. You are free to run your own checks – we are sure they will return the same results.
Who Will Write My Speech for Me Online
"It is all very good, but how can I be sure that the person you assign to help me with my speech is going to be any good at this kind of work?" We tend to hear it a lot from our first-time customers, and it is a natural consideration. After all, you entrust an important assignment to strangers, how can you be sure about its fate? Well, there is no need to worry. WriteMyEssays.com has a complex multi-step process of screening applicants for a writer's position. Before hiring somebody, we have him/her pass numerous tests to determine his/her mastery of English, understanding of formatting styles, knowledge of relevant fields of science, and other factors to meet our high-quality standards. When we receive an order from a client, we go through our entire database of writers in search of one who will be the best fit for this particular task. In other words, all our writers are competent, to begin with; and the one assigned to your task is specifically chosen for his/her expertise in writing assignments similar to your own.
Someone Write My Speech and Make It Quick
The need for assistance with speech writing often arises suddenly. Professors do not tend to give this sort of work in advance. Yesterday there was nothing, today you have a deadline closing in quickly and no way of meeting it. We understand that such predicaments are a common thing in college and train our writers accordingly – if you hire our service, you can set a deadline as close as 4 hours and expect us to complete the job on time. Just remember that urgent tasks are always much more expensive, so whenever possible, try to place your orders in advance. This way we will have plenty of time to complete them and send you the results – you will even be able to read them without a hurry and, if necessary, ask for revisions. If you ask for corrections within 7 days of receiving your speech, our writer will make them free of charge, as long as you do not contradict your original instructions – this is how much we believe in the quality of our writing!
How Can I Get WriteMyEssays.com to Help Me Write My Speech
We tried to simplify the process of dealing with our service as much as possible. To place an order, you simply have to fill in our order form (pay attention to numerous extra options – they allow you to heavily customize your order, even allowing such things as progressive delivery or samples of previous works by a specific writer) and transfer the payment. If you have questions about any details, feel free to contact our customer support team via live chat, email, or phone – they are always online and will be happy to help you. If necessary, you may even place an order directly through a support representative – it may be even easier if you want to add some unusual requirements or conditions to your project. All in all, you can complete the process in a matter of minutes – after you provide all the details, it is our job to do the rest. We will find a suitable writer, find the necessary sources of information and, when the time comes, send you the paper. Do not put it off – place an order right now!
Calculate the price of your order