Write My Dissertation - Top-Quality Results with Our Expert Help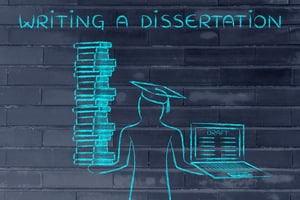 They say that writing a decent dissertation is the process that is long, tough and not that rewarding in the end. We say it is complicated but possible. This is why WriteMyEssays.com offers you an affordable option to make the process easier than it used to be – buy a dissertation from us, make use of it and enjoy the results!
Your Personal Order Page – What's It Like?
After filling in the very first order form, a customer is transferred to his/her own Personal Order page that allows tracking the task for sale processing, adding required materials and specifications, communicating with an administrator of the agency and an assigned writer. To make the process of cooperation easier for you, we've added several essential features to the page:
New Order tab makes it possible to submit another assistance request faster;
Your Orders tab allows tracking the history of papers. It also shows the list of all current topics to be covered;
Profile tab includes all your PI and allows changing a password if needed;
Order Info tab shows details of every project (current and completed);
Messages tab makes communication between a client and a freelancer or a client and administrator faster.
The service works on the Personal Page improvement to satisfy all your needs. We keep checking its convenience and are open to new suggestions on how to make it look and work better.
Number One Guarantee: No Plagiarism
What are you looking for in your dissertations? Originality is a usual thing in most cases. Unfortunately, not all online papers are original and quality. The ones we write are checked multiple times before they finally reach their buyers. To ensure a low rate of plagiarism (1%) and a high score of quality (8.5/10), we've created own tool to detect plagiarism in a custom-written piece. It is called a Free Online Checker. Use it up to 5 times if you're not registered on the website OR up to 100 times if you have ordered from us before. The results shown to users are the percentage of plagiarized content.
It is natural to have doubts concerning the cheap help offered. Feel free to check a text with our or a different tool and see the results. If copy-pasting is detected, send a scanned version of the report from turnitin.com or your professor and we will investigate the case.
How We Hire and Test Our Writers
Today, the team of freelancers at WriteMyEssays.com includes skilled experts with the Master's and PhD degrees ready to complete any research paper. Now 398 proficient penmen are ready to finish a new assignment for you. But when we are about to hire another one, he/she is tested to show a good command of the English language and knowledge of all citation styles (APA, MLA, Harvard, and Chicago). Besides, a work is to be completed to show whether all the attained skills are well-reflected in a written piece.
The fact a new member joined the team doesn't mean he/she will remain in it for good. An author has to prove the right to create dissertations for money our customers pay. So, once in a fortnight, our Evaluation Department checks the performance of each staff member. Several papers are randomly selected from the works that were created during the previous 2 weeks. The evaluation allows us understanding how good each freelancer works.
This system allows us to choose the best people to offer various services to students from around the globe whether they are working on an MBA, law or language degree. We never focus on the origin of a writer: we have experts from Europe, Asia, and America. Skills, knowledge, and experience are the three features that are valued the most.
Extra Fees for Writer's Works Previously Written
No need to get worried about the qualification of a penman assigned to your purchase: we don't choose someone randomly, but always rely on his/her education and writing experience. If you have doubts and want to ensure the highest quality of the paper you paid for, we offer to do the following. Request extracts from freelancer's previous works for an extra fee of $5. This option will allow you to get acquainted with the style of a person, who is about to type your dissertation. Depending on your impressions and needs, you can switch a creator within two hours from the moment the pages were delivered to you. A customer can make up to three switches per single task. When no switch is made within the given time, we regard this as an acceptance of the one, who was offered before. If you liked the results of your previous order, you may ask for the same author again.
Offers and features like these allow WriteMyEssays.com staying at the list of top dissertation writing services with the best reputation. We don't give empty promises. We guarantee. When you are looking for a reliable and reputable agency, address our proficient team of authors, technicians and managers. Coherency is work, adherence to all requirements, acceptance of any specifications and an individual approach allow us offering exactly what you need on time.
Calculate the price of your order