Make Use of an Advanced Thesis Writer Right When You Need One the Most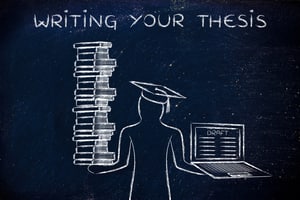 Do you need to write an extended dissertation when studying for a Bachelor, Master's or PhD degree? Well, you may have troubles with it, you know? It is one of the longest and most complicated academic works you have ever come across. It's not just an essay where doing your best means several hours of research and 30-minute writing. We complete a dissertation thesis practically every day and we do it successfully. Do you want yours to reach the top rates of the professor's list? Choose us to create a sample!
Why is Our Company a Good Choice for the Task?
WriteMyEssays.com is the service with skills and experience in writing different paper types. Today our quality score is 8.5 out of 10 and we keep improving to make it even more impressive. Examples completed by our freelancers are delivered on time (95% of cases) to different world countries. At the same time, the cost of our timely support is always affordable.
While working with our team, you get:
The services that are fast and convenient;
A writer with the educational and professional background that matches your needs;
24/7 support;
Expertise with style and format (MLA, APA, Harvard, ad Chicago/Turabian);
Free title page and bibliography;
275 words per one page;
Font: 12 point Times New Roman/Arial;
Double & single spacing.
We are a Hong Kong based company with 398 authors ready to start working on your custom purchase. The Support services are located in Latvia and Ukraine, while penmen come from different world corners united by a single aim: to deliver papers for sale that are exceptional and original.
Progressive Delivery Assigned to Your Thesis
Why is the Progressive Delivery feature assigned to dissertations and thesis more often than to other online orders? The matter is such samples are complex and with a great number of pages, while others are not that complicated. Progressive Delivery was designed for an extended order that is to be completed in parts and delivered as a writer progresses. This option is not as cheap as usual models: it costs extra 10% to a regular project price.
Both users and experts agree on the idea that this feature has more advantages than most regular ones. Among them:
You pay for help in parts;
You receive a thesis part by part or chapter by chapter;
You get a personal manager, someone who keeps you informed of the current order processing;
You get a personal schedule to know exactly when the next chapter arrives;
The most qualified creator is assigned to your complex research;
You are able to review each part and leave comments below to let a penman know what changes are to be made before the next chapter is written;
You receive a completed piece that typically does not require any major revisions.
This type of writing assistance has won hearts of many users. The agency suggests it whatever the thesis topics are. If you have doubts whether your task is complicated enough, please contact our Support Team.
Get Your Money Back When Something Goes Wrong
How can one be sure we are a reliable company? It's easy – we offer refunds to those, who are not satisfied with the result of our work. It allows anyone to be confident when a complicated order is in the process.
What possible complications can be encountered? A customer may ask to cancel a request because he/she accidentally paid twice for it or simply made the same order twice by mistake. A company may have no writer available to create a model or there may be complications with paper delivery and revision. Though the satisfaction rate is high, some customers may be completely dissatisfied or not completely satisfied with the quality of delivered results. In these cases, we promise either a partial or full refund. Contact us to learn more.
How We Use Cookies
When you make an order and buy a piece, the website uses cookies. These are text files that are usually stored on a device used for the Internet access. Cookies have proven their necessity in the process of making the website more convenient and the browser experience more enhanced.
At our thesis writing service, we use persistent and session text files. The first type is also commonly referred as long-term. Why so? They remain on a device after the browser is closed. The latter type of files is stored only while the browser is used. Both help to remember the activity of clients especially when they are filling in the form for the first time.
It is obvious that some customers do not want us to send cookies. If you are the one, you may either manage or delete them. BUT disabled files never put the work of the website at risk.
WriteMyEssays.com creates a custom thesis paper that is more than just good. We write samples that are unique and make the process of writing a complicated work easier. After a client has paid for a model, he/she expects to receive a result of a high quality and rich content. And this is what you can always count on when working with us.
Calculate the price of your order